As I was home with family for Christmas/New Year's, this week's episode involved a quick discussion about strumming options (using your hand or a pick).
Shout-out given to Julie, who commented on the blog that she had discovered the ukulele in a similar way to my own discovery. She now owns seven! If you haven't seen the video we both saw, then you need to stop what you're doing right now and watch it. I'm serious. It's the first link listed below…
Links referenced in the show:
Jake Shimabukuro: While My Guitar Gently Weeps
Jake Shimabukuro: Strumming & Plucking Technique (This link is mainly to give you a visual of what I discussed about using a wrist "flick" motion while strumming. This guy is a pro, so don't get too discouraged if unable to mimic his strumming styles…we all start somewhere, eh?)
Myself and a Friend: What Are You Doing New Year's Eve (Cover) (This is a cute song I learned a few months ago; it may add a little humor to your day too.)
Welcomed my first guest on the show…my brother, Chad! If you noticed better quality to this week's episode it's because I was using his company's podcast equipment. He wanted to give it a test run, and I was pleased to be his guinea pig. Thanks Chad! Actually, this whole episode seemed to be a family affair as my mother provided audio for my episode intro. Thanks Mama!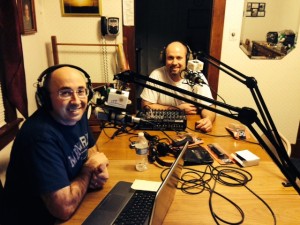 I also tested out a new tag-line for the podcast! Thanks to the suggestions from a few listeners, I was able to combine a few ideas. Tell me what you think of the new tag-line (and any other thoughts you may have) by leaving a comment below.
Hope you have a Happy New Year. Thanks so much for tuning in, and here's hoping that you…stay in tune!
Podcast: Play in new window | Download