This week's episode highlighted Bandcamp Page, the Bushman contest…yet again, and equipment I use to do my recordings for episodes and my ukulele music.
Shout-outs were given to Ladywegs (iTunes commenter) and Malc (website commenter)
Links referenced during the show:
The Flamin' Mamies: Bandcamp Page and Cow Cow Boogie YouTube Video
Bushman Ukulele Contest
Podcast Answer Man: if you're ever interested in doing your own podcast…START HERE 😉
Griffin iTalk Recorder (this is a link to the premium one…there is also a free one for download)
Blue Microphones NESSIE Adaptive USB Condenser Microphone, Cardioid
 (Full Disclosure: I am an Amazon Associate, so if you purchase a Blue microphone via this link, I will get a commission.)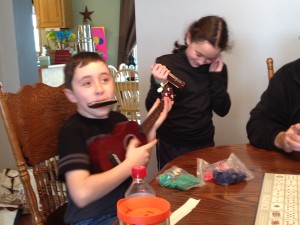 After you listen be sure to leave any comments/suggestions in the comment section below; or rate and review the show on iTunes and Stitcher. Keep in touch by following my on Twitter: @UkuLately or shoot me an email: lweldy@ukulelelately.com
Thanks for tuning in, and here's hoping that you…stay in tune!
Podcast: Play in new window | Download